About Us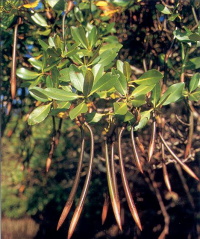 Located on the Indian River Lagoon, our garden encompasses mangroves, wetlands, lagoons, spoil islands, and upland grounds accessible by a series of walkways, bridges and paths. Enter the mangroves from the drive court and be greeted by "Kermit," a frog sculpture on the right as you step from the walkway on to the rainforest path. Listen for the soft sounds of the waterfall and gurgling of the freshwater stream that winds its way through a mini-rainforest. Follow the forest paths north to "Orchid Island" and stop for a visit in the "Thai Orchid House." (The Black Mangrove next to the orchid house was a sapling when the Civil War began - it stands proudly, hosting various orchids in its boughs.)
Proceed along "Dendrobium Walk" to "General's Island" and meet our permanent visitor from Xian, China - " Jiang Jun." Continue to walk west toward the sound of Tibetan chimes, passing another black mangrove (younger than the one on Orchid Island) acting as host to a multitude of Catalaya orchids - affectionately known as the "Cat Tree" it is a wonderful backdrop for their beautifully perfumed blooms at the end of January and early February. Walk east along the boardwalk to the "Cycad and Kitchen" gardens located between the shore of the Indian River Lagoon to the east and the mangrove wetlands to the west.
Wander these garden paths, heading south to the "Bridal Path" and "River Walk," crossing the south lawn to a path which leads you to the "Panther's Lair" walkway and island. View the large tidal lagoon - home to crabs, fish, shrimp, turtles, and other creatures indigenous to our area. If you are very quiet you will have an opportunity to watch wading birds, e.g. herons, egrets, and wood storks quietly feeding in the shallows of the lagoon. Perhaps you'll even witness osprey, cormorants and/or pelicans diving from high above you in search of their dinners.
Return to the south lawn and proceed along the west side of the lawn to "Tortuga Point" and the turtle statue "Oliver." Continue walking west along the large lagoon and you will come to a kinetic sculpture entitled, "Nuestra Familia" - "Our Family." Walking further along the lagoon you are a short walk via a paver path through the propagation area to the drive court and the mermaid fountain - "Cybil" - where your tour began.
As you wander through our gardens avail yourselves of the many opportunities to sit for a moment. Listen to the soft sounds of the stream enjoy the flowers, butterflies, birds, fish and animals that inhabit the mangroves. For it is our hope that our gardens will demonstrate to all who come that mankind and mangroves are not mutually exclusive but can co-exist and flourish. In this area the mangrove fringes and their tidal lakes provide a place for all marine life to begin - a nursery for the oceans bounty. Their dense growth provides nesting places for a vast assortment of wildlife herons, egrets, wood storks, cormorants, osprey, bald eagles, swamp mice and rabbits, bobcats and, yes, even the endangered Florida Panther.
Take away with you the thought that with careful planning this precious ecosystem, so important to our rivers and oceans, can and should be preserved not just for the present, not for our children, nor for our grandchildren, but for all time. If each of us does something now to preserve the mangrove fringe and their tidal lakes and lagoons, we will leave behind the gift of life - life in, on and around the rivers and oceans of our world.
-Carolyn L. Stutt